Project Description
4. Yemeni (Northern) in Yemen
A people of 12 million with no known believers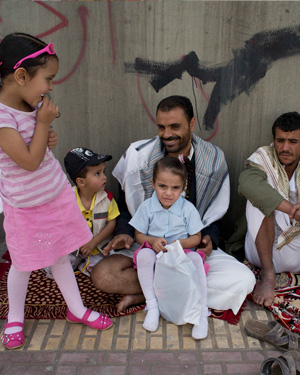 [googlemaps https://www.google.com/maps/embed?pb=!1m16!1m12!1m3!1d7879528.5024774475!2d43.6970734279325!3d15.353396768311574!2m3!1f0!2f0!3f0!3m2!1i1024!2i768!4f13.1!2m1!1syemini+northern!5e0!3m2!1sen!2sin!4v1543590450433&w=100%&h=380]
Language: Arabic, Sanaani
Yemeni (Northern) in Yemen
The northern tribes of Yemen may be referred to as the Sanaani Arabs. They reside in the northern mountains and north‐eastern deserts, as well as around the capital city of Sana'a. The growing of the narcotic qat has become the mainstay of rural Yemen, and nearly half of the national economy is involved in qat.
Ministry Obstacles
Muslims know Jesus (Isa) is the Messiah (al Masih) sent by God, embodying His Word, but view Christianity as a campaign to destroy their families, communities and way of life.
Outreach Ideas
Pray for laborers to have wisdom in applying the pattern Jesus established in Mt. 10 and Lk. 10 for blessing Yemeni households.
Pray for the followers of Christ
Pray for the few believers among the Sanaani Arabs, that they would become effective and fruitful in sowing God's Word among their families and communities to fuel a movement of God's blessing spreading from household to household.
Pray for the entire people group
Pray for a movement to Jesus to multiply among the families and communities of the northern tribes of Yemen, that Yemeni families will increasingly experience the righteousness and forgiveness found only in the person and work of Jesus Christ. Please also see the prayer points on page 4.
Scripture focus
"Through whom we have received grace and apostleship to bring about the obedience of faith for the sake of his name among all the nations." Romans 1:5
If you have worked with this people group, know someone who has, or have access to stories or information about this group, we would love to hear from you. More information means more focused, strategic prayer. Your personal information always will remain confidential.
[contact-form-7 id="19695″ title="Project Form"]